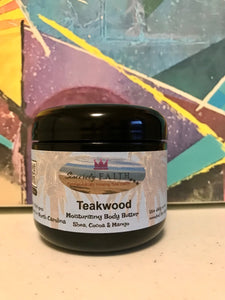 4 oz Creamy Body Butter - Use daily for the benefits below. A little goes a long way!
- Hydrates & Moisturizes your skin while improving elasticity. 
- Skin Rejuvenating 
- Treats blemishes and reduces skin inflammation. 
- Provides relief to itchy skin 
- Reduce Razor Irritation and Bumps. 
- If used early can help reduce stretch marks. 
- Provides a protective barrier over skin to hold in moisture. 

Ingredients: Premium Butters, Natural Oils & Fragrance 
Natural ingredients may vary in color and consistency. Store in a cool dry place as butter will melt in hot temperatures. If butter melts simply put in a cool place and it will return to its solid state.
This is a fragrance that both men and women love. It's a mix of cedar wood, oakwood and warm mahogany. It has top notes of fresh lavender and geranium, middle and base notes of warm mahogany and earthly wood
.