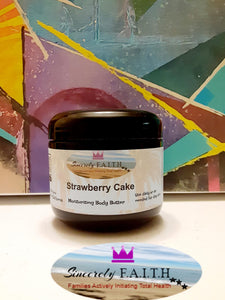 4 oz Creamy Body Butter - Use daily for the benefits below. A little goes a long way!
- Hydrates & Moisturizes your skin while improving elasticity. 
- Skin Rejuvenating 
- Treats blemishes and reduces skin inflammation. 
- Provides relief to itchy skin 
- Reduce Razor Irritation and Bumps. 
- If used early can help reduce stretch marks. 
- Provides a protective barrier over skin to hold in moisture. 

Ingredients: Premium Butters, Natural Oils & Fragrance 
Natural ingredients may vary in color and consistency. Store in a cool dry place as butter will melt in hot temperatures. If butter melts simply put in the refrigerator and it will return to its solid state.
Strawberry Cake
This irresistible body butter smells like fresh strawberries, sweet pound cake with a hint of cocoa. It is a comforting fragrance with notes 
of strawberry, vanilla, peach and sugar
.